Saved Vehicles

[

00

]
Welcome to My Garage, the modern way to utilize car inventory searches and make it easier for you to collect your vehicles of interest. Now you can personalize your vehicle search with cars that you have recently viewed and saved. If you sign up for our Alerts tool you will be notified by email when a price has been changed or the car has been sold. Our Auto Locator tool will also notify you when a vehicle you are searching for has been added to our inventory. We hope you enjoy using our My Garage tool.
Recently viewed (0)
No viewed cars.
New Maserati Ghibli Modena Q4 for Sale in Greenwich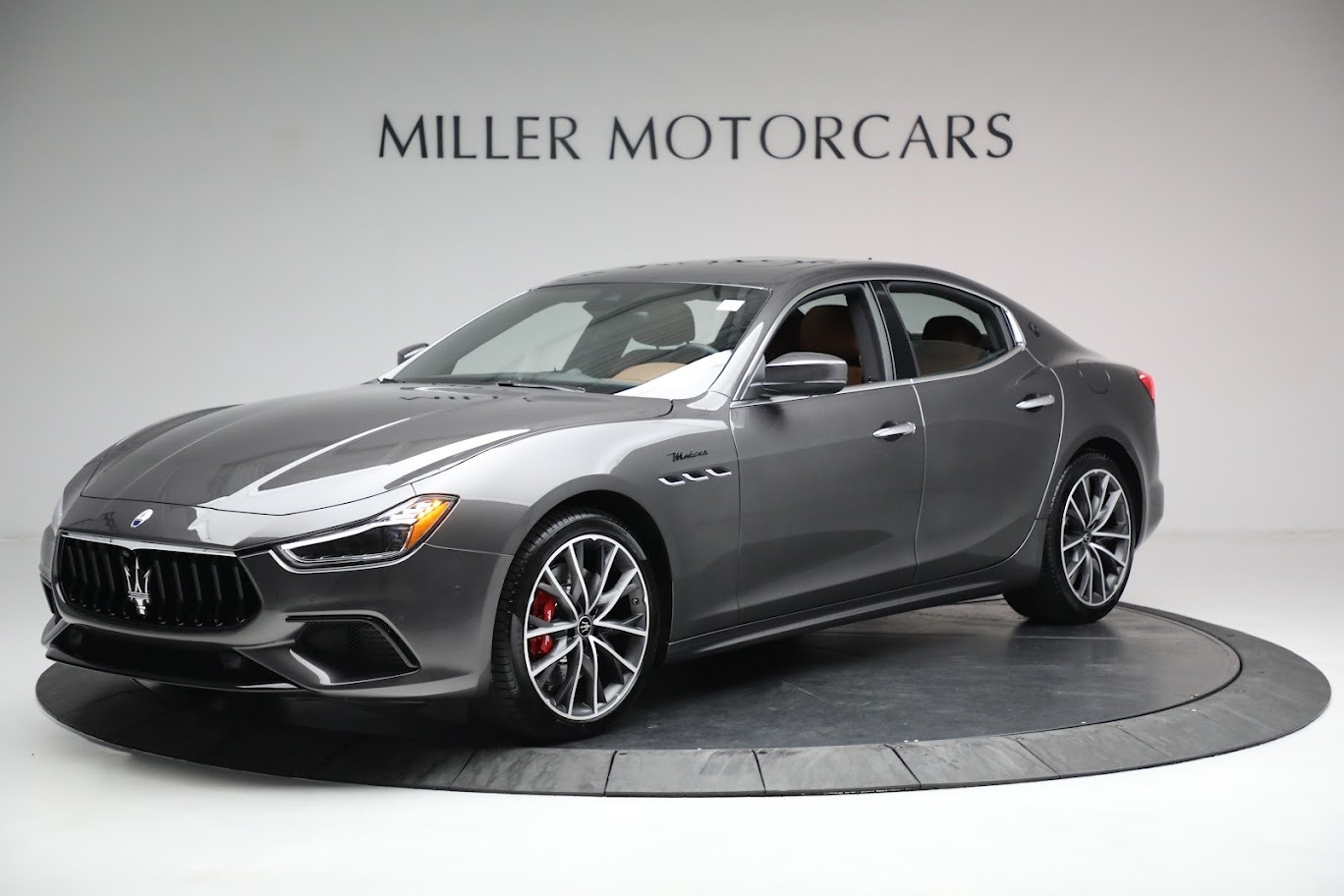 Experience the pinnacle of Italian luxury and performance with the new Maserati Ghibli Modena Q4, now available for sale. If you have been yearning for a vehicle that seamlessly combines elegance, power, and cutting-edge technology, the Maserati Ghibli Modena Q4 is the embodiment of automotive excellence.
Explore the impressive features, specifications, and other details of this remarkable vehicle. From its striking exterior design to its exhilarating performance capabilities, the car is a masterpiece. We recommend visiting our website to know the smallest of details and to buy the car without the hassle of documentation. Let Greenwich be the destination where your automotive dreams come true with the new Maserati Ghibli Modena Q4.
Definition of Excellence and Performance – The Ghibli
Introducing the revolutionary Maserati Ghibli Modena Q4. This elegant sedan seamlessly combines excellence and performance, creating a vehicle like no other. With its powerful 3.0L twin-turbo V6 engine, it boasts an impressive 424 horsepower and 428 ft. lbs. of torque. The Ghibli design gives a smooth-shifting 8-speed shiftable automatic transmission and a limited-slip differential in the rear, guaranteeing an unparalleled driving experience. It has a range of innovative features, including auto start/stop, battery saver, drive mode selector, and a locking differential in the rear that enhance both efficiency and performance.
Suspension and Handling
The suspension and handling elements of the Maserati Ghibli Modena Q4 are top-notch. The double wishbone design used in the front is independent of the chassis. Independent, albeit of the multi-link variety, is the rear suspension design. Stabilizer bars, coil springs, and gas shocks at the front and back, respectively. For your safety and comfort, the Ghibli Modena Q4 comes standard with hill holder control, stability control, and traction control. The combination of these characteristics makes for responsive handling and a comfortable ride.
Welcoming and Cozy Interior
The interior of the Maserati Ghibli Modena Q4 is remarkably comfortable, offering impressive luxury. The front air conditioning is dual-zone and automated, ensuring optimal comfort for passengers. Humidity and dewpoint sensors further contribute to passenger well-being. Additionally, second-row rear vents enhance overall vehicle comfort. For added convenience during longer trips, the rear armrests fold to reveal cupholders. The interior is adorned with luxurious features such as a carpet cargo area floor mat, leather center console, and wood dash trim. Maserati Ghibli Modena Q4 provides a truly sumptuous ride.
Amenities for Convenience
This meticulously designed Maserati Ghibli Modena Q4 seamlessly blends luxury and practicality to elevate your driving experience. Equipped with state-of-the-art technology, including adaptive cruise control and semi-automatic adaptive stop-and-go cruise control, your journey will be effortlessly smooth. Navigating through traffic is a breeze with autonomous lane guidance while assisting handles in both the front and rear ensure easy entry and exit. Stay organized with ample storage space in the center console, along with a cargo area light and numerous cupholders.
Striking External Appearance and Visual Presentation
The Maserati Ghibli Modena Q4 exudes a bold and powerful image, with its eye-catching design and flawless visual presentation. Its body-color front and rear bumpers, rocker panels, and mirrors perfectly harmonize with the sleek black grille adorned with chrome accents and chrome door handles. The striking exterior is further elevated by quad stainless-steel exhaust tips and chrome window trim. The Ghibli also boasts a convenient power-operated liftgate and a moonroof/sunroof that effortlessly opens and closes with a single touch. Additionally, enjoy the convenience of power-adjustable side mirrors with power folding and reverse gear tilt.
Combination of Style and Aesthetics Lights
Equipped with radiant LED lights, this Maserati Ghibli Modena Q4 boasts both style and safety. Enjoy enhanced visibility with LED daytime running lights and approach lamps, while the headlight cleaners ensure crystal-clear vision. With advanced features like auto delay off, auto high beam dimmer, auto on/off, HID/Xenon lights, and wiper activation, driving becomes effortless and secure. Not to mention the sleek rear fog lights that add to the overall aesthetic of this impressive vehicle.
High-Traction Wheels and Tires
The Maserati Ghibli Modena Q4 is equipped with wheels and tires that enhance performance and provide a superior grip on the road. Plus, you'll never have to worry about being stranded with a blowout or flat tire, as the spare tire is conveniently mounted inside the vehicle. It's easily accessible and sized as a temporary fix. It includes a tire pressure monitoring system for added peace of mind.
Features for Optimal Protection & Security
The Maserati Ghibli Modena Q4 has a number of safety and security features that are meant to keep the driver and passengers as secure as possible in a variety of situations. These include a camera system with a 360-degree surround view, a blind-spot monitor, and automated hazard lights. The latch system, used for both door locks and car seat anchors, is a great addition for families with young children.
The car's cross-traffic alert and driver attention alert systems also work together to keep drivers safe and aware. The impact sensors will disengage the batteries, release the doors, and turn off the fuel in the event of a collision. You may drive with peace of mind thanks to the car's many safety features, including airbags with occupant-detecting passenger deactivation, anti-lock brakes (ABS) on all four wheels, and emergency locking retractors up front.
Defensive Against Theft
Along with specs to keep you safe, the Ghibli Modena Q4 is also packed with advanced anti-theft features to ensure the security of your vehicle. With its alarm system, anti-tow sensor, interior motion sensor, and vehicle immobilizer, you can rest easy knowing that your car can protect itself. The power door locks even have anti-lockout and auto-locking capabilities for added convenience and peace of mind. With all of these features seamlessly working together, the Ghibli Modena Q4 is a formidable defense against theft.
Know the Intriguing Details of Maserati Ghibli Modena Q4
With the New Maserati Ghibli Modena Q4 available for purchase at our dealership, it is time to consider what your definition of excellence and performance is. The overall inviting and warm interior of this car provides you with a welcome coziness unlike any other. Furthermore, its striking visible appearance from the exterior lets onlookers know exactly what kind of car you drive. Confidently turn each road into a thrilling journey with features that assure maximum protection and security for all passengers. Now is the time to find more intriguing details about Ghibli from us for an engaging and exciting experience.
---
LOCATION
Maserati of Westport
1026 East Post Road
Westport, CT 06880
HOURS
| | |
| --- | --- |
| Monday - Friday: | 9:00AM - 6:00PM |
| Saturday: | 9:00AM - 4:00PM |
| Sunday: | Closed |