Saved Vehicles

[

00

]
Welcome to My Garage, the modern way to utilize car inventory searches and make it easier for you to collect your vehicles of interest. Now you can personalize your vehicle search with cars that you have recently viewed and saved. If you sign up for our Alerts tool you will be notified by email when a price has been changed or the car has been sold. Our Auto Locator tool will also notify you when a vehicle you are searching for has been added to our inventory. We hope you enjoy using our My Garage tool.
Recently viewed (0)
No viewed cars.
Year


Make


Model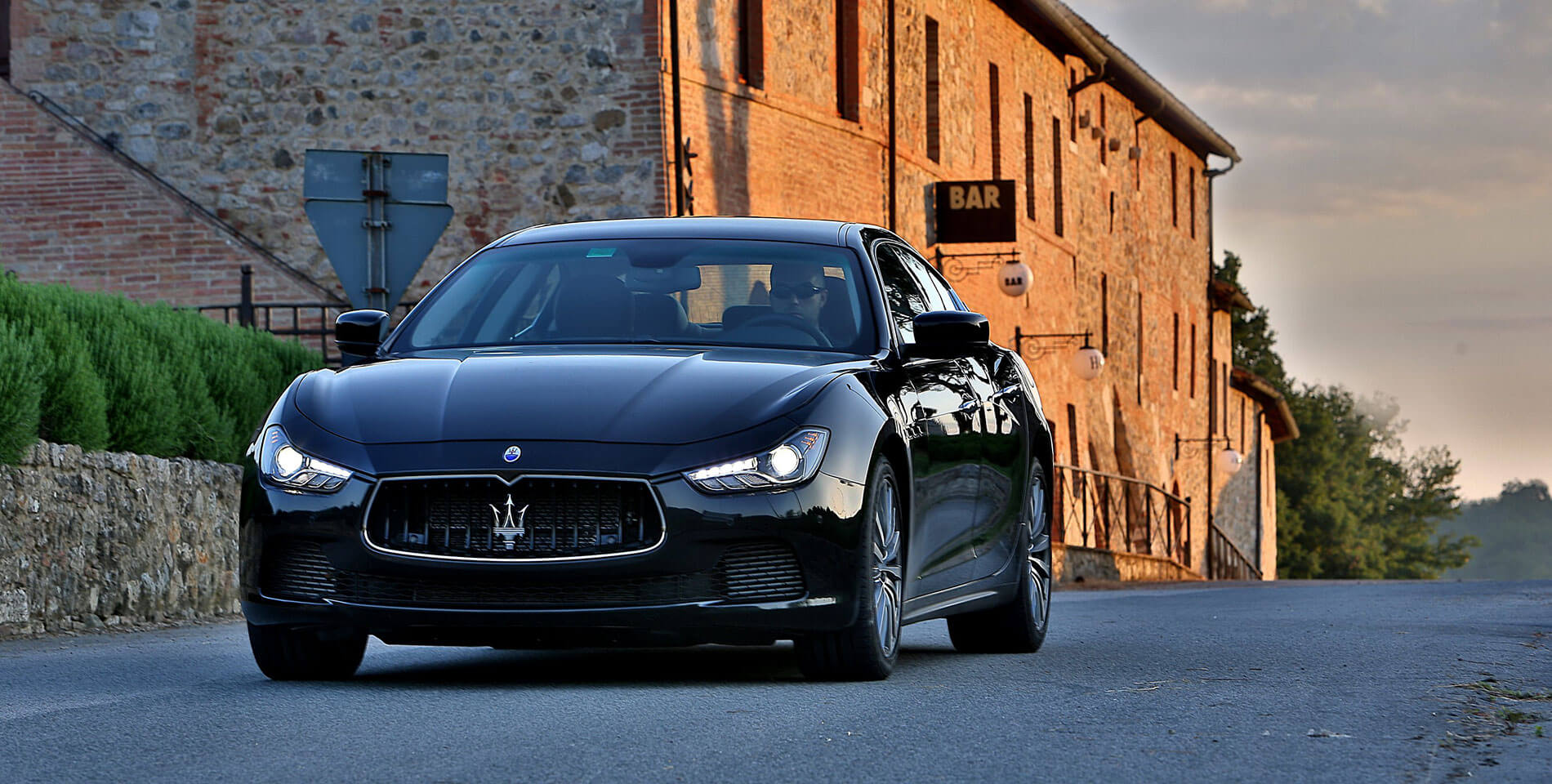 Print
---
Ghibli
Inspired by more than a century of competition victories, Ghibli delivers the dynamic performance and rear-wheel drive exhilaration of a genuine sports sedan wrapped in a stunning Italian design of refined spaciousness and class-leading luxury. Welcome to the second century of Maserati.
When designing the Maserati Ghibli, Maserati drew on its rich experience as creators of the finest grand touring cars in history. The very first Gran Turismo was a Maserati, and since then, every car bearing the Trident has offered thrilling performance and unmatched style. The Ghibli, Maserati's newest creation, is an extraordinary sports sedan that blends the soul of a GT with a powerful new shape that delivers excitement, every time you drive.
---
Design Appeal
With a look that is glamorous yet assertive, the design of the Maserati Ghibli makes a striking impression. Like the first Ghibli launched back in 1967—designed by the young Giorgetto Giugiaro—it captivates with its strong personality. From the front, the Ghibli is dominated by the distinctive Maserati grille, and while inspired by the traditional oval shape, it acquires a more rectangular form, narrowing at the top to meet aggressive front headlights.
The frameless door windows help to give the Maserati Ghibli the look of a sleek coupe, even though its length and wheelbase are amongst the longest in its class. The side of the car is defined by two curved lines that converge, before giving way to the rear flanks.
Low Consumption, Sporty Verve
The Maserati Ghibli's 3.0-liter, twin-turbocharged V6 is an engine designed to achieve lower fuel consumption and emissions while delivering stunning performance. The result is outstanding versatility in terms of use, combined with extremely impressive torque and power values: 345 HP at 5,000 rpm and, when the Sport button is pressed, a maximum of 369 ft-lb of torque is available at engine speeds from 1,750 to 4,500 rpm.
Compared to the more powerful unit installed on the Ghibli S Q4, this six-cylinder engine has specifically designed camshafts and injectors, combined with a different turbine mapping and a customized electronic control system. These modifications have cut consumption even further, without significantly affecting throttle response. From a standstill, the Maserati Ghibli springs from zero-to-60 mph in just 5.5 seconds (zero-to100 km/h in 5.6 seconds), with a top speed of 166 mph (263 km/h).
Luxury Leather
Positioned in the driving seat of the Maserati Ghibli, the driver feels a sense of total control. The ergonomic, three-spoke leather-clad steering wheel features controls for interacting with the main multimedia functions. Behind it is a simple yet striking instrument panel; the large speedometer and tachometer have elegant white backlighting and are separated by a 7-inch TFT display that shows the car's dynamic data at a glance.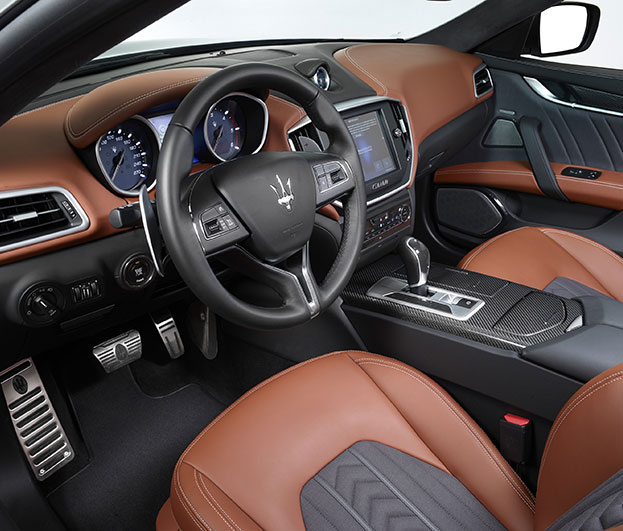 ---
Maximum Power
345
Hp
at 5,250 rpm
Maximum Speed
166
mph
267 km/h
0-60 mph
5.5
sec
0 to 100 Km/h; 5.6 sec
Maximum Torque
369
lbs/ft
at 1,750 rpm
---
Specifications
Basic Information
| | |
| --- | --- |
| Max power | 345-hp @ 5,250 rpm |
| Fuel tank capacity | 21.1 gal. |
| Engine | 3.0 L V6 |
| Drivetrain | Rear Wheel Drive |
| Fuel Type | Premium unleaded |
| Maximum torque | 369 lbs.-ft. @ 1,750 rpm |
| Max speed | 166 mph / 267 km/h |
| Transmission | 8-speed automatic |
Weights and Dimensions
| | |
| --- | --- |
| Length | 195.7 in (4,971 mm) |
| Width | 76.6 in (1,946 mm) |
| Height | 57.5 in (1,461 mm) |
| Wheelbase | 118.0 in (2,997 mm) |
| Passenger volume | 108.0 cu.ft. |
| Compression ratio | 9.70 to 1 |
| Engine bore x stroke | 3.4″ x 3.3″ |
| Curb Weight | 3,990 lbs. |
---
---
LOCATION
Maserati of Westport
1026 East Post Road
Westport, CT 06880
HOURS
| | |
| --- | --- |
| Monday - Friday: | 9:00AM - 6:00PM |
| Saturday: | 9:00AM - 4:00PM |
| Sunday: | Closed |