Saved Vehicles

[

00

]
Welcome to My Garage, the modern way to utilize car inventory searches and make it easier for you to collect your vehicles of interest. Now you can personalize your vehicle search with cars that you have recently viewed and saved. If you sign up for our Alerts tool you will be notified by email when a price has been changed or the car has been sold. Our Auto Locator tool will also notify you when a vehicle you are searching for has been added to our inventory. We hope you enjoy using our My Garage tool.
Recently viewed (0)
No viewed cars.
2022 Maserati Ghibli Modena Q4 For Sale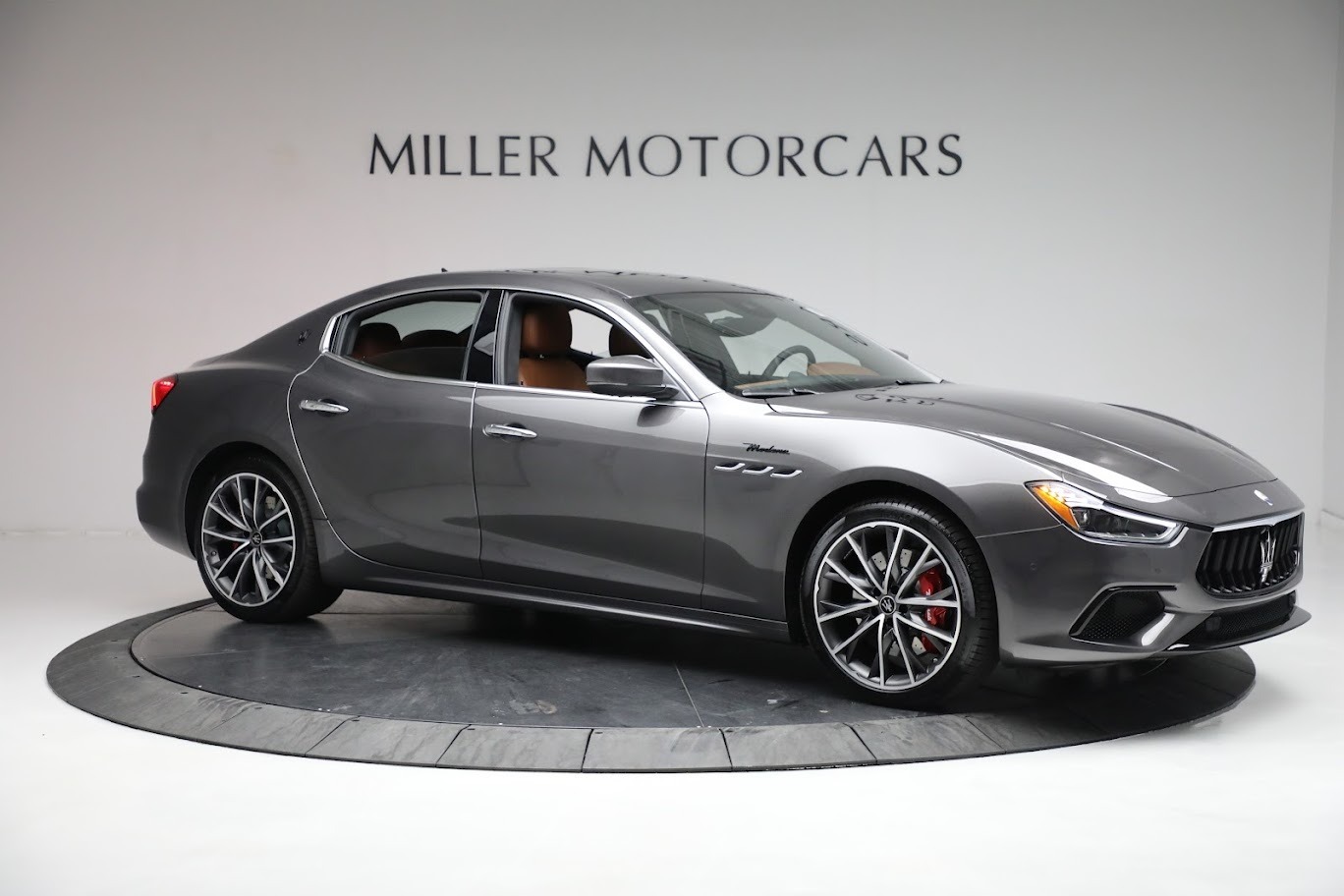 Are you in the market for the best car? If so, consider the 2022 Maserati Ghibli Modena Q4. This car is sure to turn heads with its sophisticated style and performance. Plus, it's available for sale at a competitive price. Please keep reading to learn more about this vehicle and its features.
Maserati Ghibli Modena Q4 Performance
Maserati is known for its performance. The Maserati Ghibli is a midsize luxury sedan that makes a concerted effort to differentiate itself from its German and Asian rivals. As a result, it is full of Italian elegance. It has three trim versions for 2022, including GT, Modena, and Trofeo.
The Ghibli Modena Q4 is a great car. It has an all-wheel drive system for optimal handling. From the engine to the transmission, it delivers an excellent performance which is given below:
Engine And Transmission
The Maserati Ghibli's engine, a 3.0L twin-turbocharged V6 unit, generates an impressive 560 horsepower and 500 lb-ft of torque. This incredible power is routed through a sophisticated 8-speed automatic transmission to deliver precise control and optimal fuel efficiency. The engine also features variable valve timing to ensure smooth operation under all driving conditions. In addition, it uses advanced direct fuel injection to produce more power while releasing fewer environmental emissions.
Adaptive Suspension
Equipped with an adaptive air suspension system and controlled by the new Maserati 4 Control hydraulic steering system, the Ghibli Modena Q4 offers incredibly responsive handling on any road surface. By monitoring various driving dynamics, including speed and vehicle position relative to turns at different speeds, the air suspension system adjusts itself in real-time for optimal grip under all conditions.
Fuel Economy
Even though it is a powerful vehicle, the Ghibli Modena Q4 achieves an EPA-estimated in the city is 18 mpg and 26 miles per gallon on the highway.  This makes it a fantastic option for anyone searching for a reliable and practical vehicle. It also has a large gas tank capacity of 21.1 gallons, allowing longer trips without stopping for refueling. With its power and fuel economy combination, the Ghibli Modena Q4 is an excellent option for everyday driving and road trips.
Ghibli Modena Q4 Interior Design
Leather seats with contrast stitching, a leather-wrapped steering wheel, and aluminum accents give the Ghibli Modena Q4's interior a luxurious and elegant feel.
Comfortable Heated Seat
The Ghibli Modena Q4 comes standard with seat heating, which helps to keep you comfortable during those cold winter days. Heated seats with the touch of a button, you can quickly and efficiently heat the seats to a comfortable temperature, helping you to stay warm and cozy on your way to work or school.
Adjustable Functions
Inside Maserati Ghibli, luxury and technology are seamlessly integrated to create a truly exceptional driving experience. The interior features supple leather seats, adjustable heating, cooling, and massage functions, and a premium Harman Kardon audio system with Bluetooth connectivity.
Digital Display
The driver is also treated to a 12.3-inch digital instrument cluster display and an 8.4-inch touchscreen infotainment system, both customizable to provide an array of driving information and entertainment options.
Ghibli Modena Q4 Exterior Design
The Ghibli Modena Q4's exterior is designed with sleek lines, giving it a sense of forwarding movement even when standing still. In addition, the iconic Maserati trademark grille and trident badge are prominently featured on the front of the vehicle. At the same time, the signature LED headlights give a modern touch to the overall design. The Ghibli Modena Q4 also features 19-inch alloy wheels and dual exhaust pipes, completing its sporty aesthetic.
Safety Features
The 2022 Maserati Ghibli Modena Q4 is a powerful and luxurious new vehicle designed for safety. This state-of-the-art car is equipped with several innovative features, like a backup camera that helps to protect drivers and passengers alike.
Automated Emergency Braking
The Ghibli Modena Q4 comes standard with several advanced safety features, including automated emergency braking. This system uses a combination of sensors to detect potential collision risks and automatically uses the brakes to lessen the impact of a collision. In addition, the Ghibli Modena Q4's automated emergency braking system provides peace of mind while driving, helping you stay safe on the road.
Lane-Departure Warning
The Ghibli Modena Q4 also features a lane-departure warning, which uses sensors to monitor the vehicle's position on the road. The warning system will alarm the driver if the car drifts out of its lane. This system is designed to keep you safe and prevent you from accidentally drifting into oncoming traffic.
Adaptive Cruise Control
The Maserati Ghibli Modena Q4 also features adaptive cruise control, which uses sensors to monitor the vehicle's position on the road. If the car begins to drift too close to the vehicle in front, the adaptive cruise control system will slow the car down to maintain a safe distance. This system is designed to keep you safe and prevent you from accidentally hitting the car in front of you.
Ghibli Modena Q4 Cargo And Space
The Ghibli Modena Q4 offers ample cargo and storage space, making it an excellent vehicle for long-route journeys or everyday errands. The trunk offers up to 17 cubic feet of space and plenty of room for groceries, luggage, or sporting equipment. The Maserati Ghibli's front and rear seats also fold down to provide additional storage room, perfect for bringing home large purchases from the store.
Conclusion
The Maserati Ghibli Modena Q4 will turn heads with its luxurious exterior and interior design. In addition, the car is packed with safety features and has plenty of cargo and space for your everyday needs. However, suppose you're looking for a high-performance vehicle that will make a statement. In that case, the Maserati Ghibli Modena Q4 is a perfect choice.
Visit Maserati of Westport if you want to test drive Maserati Ghibli Modena Q4. With our huge inventory of cars, you can find the perfect vehicle which suits you with a fair purchase price. Visit our website to check the inventory, vehicle history, and estimated payment for a Maserati and other similar vehicles.
---
LOCATION
Maserati of Westport
1026 East Post Road
Westport, CT 06880
HOURS
| | |
| --- | --- |
| Monday - Friday: | 9:00AM - 6:00PM |
| Saturday: | 9:00AM - 4:00PM |
| Sunday: | Closed |